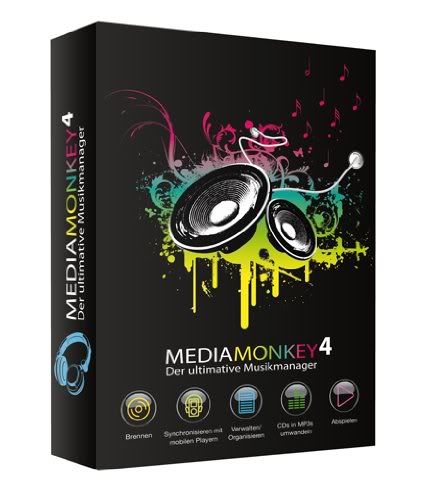 MediaMonkey Gold 4.0.6.1501 Final | 14.6 MB
MediaMonkey Gold - the program allows you to organize your music collection on your hard disk, CD, and a local network - easily edit tags (either manually or automatically using data from the database freedb.org), incomplete or find duplicate files, convert files to other formats, record music from the CD (in formats OGG, MP3 or WMA) or on CD, and download the mp3-player. Supported work with files, CD and OGG, WMA, MPC, FLAC, APE, WAV and MP3. In MediaMonkey embedded player with a friendly interface and support modules Winamp. Can be integrated with Nero for CD burning.
MediaMonkey is a music manager and media jukebox for serious music collectors and iPod users. It catalogs your CDs, OGG, WMA, MPC, FLAC, APE, WAV and MP3 audio files. It looks up missing Album Art and track information via Freedb and the web, and includes an intelligent tag editor and an automated file and directory renamer to organize your music library. It includes a CD ripper, CD / DVD Burner, and audio converter for saving music, and manual or automated playlist editors for creating music mixes. Its player automatically adjusts volume levels so that you don't have continually fiddle with the volume control and supports hundreds of Winamp plug-ins and visualizations; or if you prefer, it can use Winamp as the default player.It also includes portable audio device synchronization that allows you to synch tracks and play lists with devices such as the iPod and other portable audio devices.
Key features:
Organizing and editing music tags, using the powerful and intuitive interface.
Automatically search and fill missing tags and album art.
Manage 50,000 + files in your music collection without any effort.
Control any audio Genre: Rock, Classical, Audiobooks, Comedy, Podcasts, etc.
MP3 and other audio files no longer need to worry about different formats.
Burning a CD and convert MP3, M4A, OGG, FLAC, WMA and other files to different formats.
Create playlists and let Auto-DJ mode and the group take care of your party.
Sync iPhone, iPod, and MP3 players, converting and leveling tracks on the fly.
Features:
Music Manager (rock, classical, audiobooks, etc.)
Music player and equalizer (MP3, AAC, OGG, WMA, FLAC etc.) + DSP Effects
Management podcasts
Auto-DJ mode and a protected group
Copying a CD and audio converter: Encode MP3, OGG, WMA, FLAC
Automatically rename / file organizer
Auto Tag Editor with search covers
Search for duplicate and missing tags
Playlist Manager (auto mix)
Generate reports and statistics
Customizing with scripts and plugins
Sync your iPod and MP3 Players
Built-in recording CD / DVD (audio and data)
Control files (automatically update the library)
Support for Multiple Collections (eg, rock and classical)
Advanced Search and avtopleylistov
Conversion and leveling tracks on-the-fly, to synchronize and record
MP3 encoding with no restrictions
Virtual CD / announcements
Sleep Timer
Changelog:
9421 Fixed [Burning / Disc Handling] Ripping fails for some users when 'Secure read' mode is selected (regression on x64)
9485 Fixed [Codec] in_mfaudio plugin sometimes crashes on corrupted m4a files
9438 Fixed [DLNA / UPnP] FLAC playback fails from Serviio server
9443 Fixed [Framework: Tagging] MediaMonkey updates lyrics language to XXX
9445 Fixed [Install / Config] Rip type combo box incorrectly aligned with the german translation
9423 Fixed [Install / Config] Portable mode isn't fully portable
9454 Added [Install / Config] Workaround to allow Portable mode to use plugins that rely on MM COM Server
9456 Fixed [Main Panel] Art Browser can throw an Divizion by zero issue
9442 Fixed [Main Panel] Problems adding / removing columns in the column browser
9424 Fixed [Other] Full screen party mode can be exited just by dragging down the title bar
9426 Fixed [Player] Playing previous track after scrolling -] crash (regression)
9427 Fixed [Player] Radio stations fail to display track metadata (when playing by Media Foundation)
9383 Fixed [Synchronization] iPods (non-iOS) are incorrectly named in MM (regression)
9401 Fixed [Synchronization] Prefixes are ignored during synchronization (iOS5)
9415 Fixed [Synchronization] MediaMonkey crashes when unplugging iPhone in some cases
9416 Fixed [Synchronization] Played # increases for tracks synced to iOS5 device inaccordingly sometimes
9431 Fixed [Synchronization] Successively syncing playlists manually corrupts previously synced playlists (MTP only)
9439 Fixed [Synchronization] Podcasts disappear upon second sync to iPod Classic 3G 160GB with firmware 2.0.4

Download(Letitbit):
http://letitbit.net/download/34170.3b85ac96612e5d2664c52bbd0e4c/MediaMonkey.Gold.4.0.6.1501.Final.rar.html

Download(Rapidgator):
http://rapidgator.net/file/23881806/MediaMonkey.Gold.4.0.6.1501.Final.rar.html

Mirror Links


MediaMonkey Gold 4.0.6.1501 Final Download via Hotfile Rapidshare Fileserve Megaupload & FileSonic, MediaMonkey Gold 4.0.6.1501 Final free torrent downloads included crack, serial, keygen.
Information
Members of
Guest
cannot leave comments.