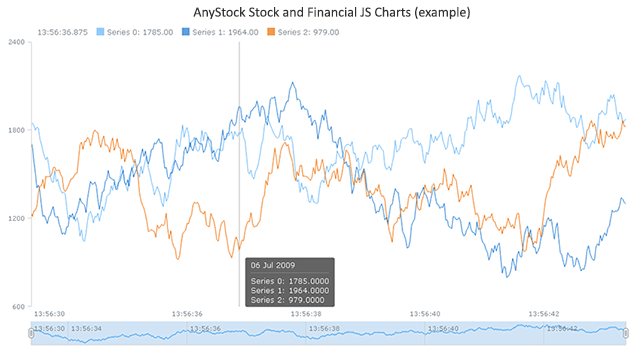 AnyStock Stock and Financial JS Charts 7.14.0 1.66 MB
AnyChart Stock and Financial JS Charts (short: AnyStock) is a javascript based financial and stock charting library, also used for visualizing any timeline data over a long time. AnyStock technology turns your real-time data into highly sophisticated charts with interactive features, bringing visualization of your data to the Web and providing a full feature set for creating real-time streaming and data manipulation applications.
Designed to display date and time based information, AnyStock is the ideal tool for client reporting and performance reporting applications. Reports and Dashboards are visualized with scrolling, drill downs, panning and zoom functionality available in all of our HTML5 charts. AnyStock brings analysis of your FOREX, commodity and investment market data to life. The ability to review long term and large data sets can easily be handled with scroll, pan, and zoom controls.
AnyStock is fully integrated into AnyChart 7 Framework and shares most of its ideology, settings technique and ease of use - and you can use AnyStock along other charts including those available in the AnyChart javascript Charts, AnyGantt javascript Gantt Charts, and AnyMap javascript Maps.
AnyStock supports a wide range of stock chart types (including Candlestick, OHLC, Line, Spline, Column, Step Line, Area, Step Area, Spline Area, Marker, Range Column, Range Area, Range Spline Area, Stacked Stock JS charts) and technical analysis indicators (MACD, ROC, RSI, SMA, EMA, DMI, CHO, CCI, and others; customs indicators can be set up). Drawing tools (including Line segment, Ray, Trend line, Trend channel, Andrew's pitchfork, Fibonacci fan, Buy/Sell signals, and many others) and adding of news events (analyst opinions, insider trading, dividends, and key developments) to improve the ability to analyze information effectively are also available and have made an important contribution to the superfast HTML5 visualization of stock/financial or any timeline data w/ AnyStock JS.
OS: WinXP,WinVista,WinVista x64,Win7 x32,Win7 x64,Mac OS X,windows2003,windows Vista Ultimate,windows Vista Ultimate x64,Android,iPhone,Linux,windows Tablet PC Edition 2005,windows Media Center Edition 2005,windows Vista Starter,windows Vista Home Basic,windows Vista Home Premium,windows Vista Business,windows Vista Enterprise,windows Vista Home Basic x64,windows Vista Home Premium x64,windows Vista Business x64,windows Vista Enterprise x64,windows 8,Linux Console,Linux Gnome,Linux GPL,Linux Open Source,Mac OS X 10.9,Mac OS X 10.8,Mac OS X 10.7,Mac OS X 10.6,Mac OS X 10.5,Mac OS X 10.4,Mac OS X 10.3,Mac OS X 10.2,Mac OS X 10.1,windows 10,windows Server 2003,windows Server 2008,windows Server 2008r2,windows Server 2012,iOS,iPad
Language: English,Chinese,Russian,Spanish
Download URL:
http://static.anychart.com/cdn/binaries-package/7.14.0/anystock.zip
Read more:
http://www.anychart.com/products/anystock/overview/
Title: German Top 50 Official Dance Charts 16.06.2017
Artist: VA
Release: 2017
Style: Dance
Time: 03:07:13
Audio: MP3 320 kbps
Size: 420 mb
Title: German Top 100 Single Charts 16.06.2017
Artist: VA
Release: 2017
Style: Pop, Rock, Club, Dance, etc
Time: 05:53:29
Audio: MP3 320 kbps
Size: 806 mb
Stocks Charts Realtime Quotes v5.0 | 3.3 MB
StockSpy - A slick Phone & Tablet app which simplifies tracking stocks, the stock market, realtime stock quotes, charts, news, links & stats for stocks around the globe. StockSpy allows you to SEE how the news affects stock prices with NewsCharts!
AnyChart JS Charts and Dashboards 7.14.0 3.32 MB
AnyChart is a robust and superfast javascript charting library to add great-looking, interactive HTML5 charts into any project, in any browser, and on any platform/OS including mobile ones.
AnyChart provides advanced customization and flexibility opportunities, no matter if you are developing a website, a business intelligence application (BI) for corporate usage, or some software for your clients. Our javascript API makes it possible for you to create even big data based charts in real time, with continuous updates and multi-level drill-downs. Moreover, whatever server platform or database you use in your project, AnyChart is ready to fulfil your dream to surprise your customers with amazing informative JS charts and dashboards regardless of device - on Macs, laptops, PCs, smartphones, and tablets.
AnyChart provides scatter, line, bar, area, waterfall, spline, funnel, bubble, polar, column, column range, pie, box plot, linear and angular gauges, area spline range, Mekko, Venn, waterfall, quadrant, tag cloud, and lots of other sorts of charts available separately and in combination.
In a nutshell AnyChart HTML5 chart library's advantages boil down to the following:
* building charts and dashboards on the fly;
* drill-down;
* chart export;
* interactivity;
* multiple axes;
* async rendering;
* online chart editor,
and much more to create interactive JS data visualization in/for any projects.
OS: WinXP,WinVista,WinVista x64,Win7 x32,Win7 x64,Mac OS X,windows2003,windows Vista Ultimate,windows Vista Ultimate x64,Android,iPhone,Linux,windows Tablet PC Edition 2005,windows Media Center Edition 2005,windows Vista Starter,windows Vista Home Basic,windows Vista Home Premium,windows Vista Business,windows Vista Enterprise,windows Vista Home Basic x64,windows Vista Home Premium x64,windows Vista Business x64,windows Vista Enterprise x64,windows 8,Linux Console,Linux Gnome,Linux GPL,Linux Open Source,Mac OS X 10.9,Mac OS X 10.8,Mac OS X 10.7,Mac OS X 10.6,Mac OS X 10.5,Mac OS X 10.4,Mac OS X 10.3,Mac OS X 10.2,Mac OS X 10.1,windows 10,windows Server 2003,windows Server 2008,windows Server 2008r2,windows Server 2012,iOS,iPad
Language: English,Chinese,Russian,Spanish
Download URL:
http://static.anychart.com/cdn/binaries-package/7.14.0/anychart.zip
Read more:
http://www.anychart.com/products/anychart/overview/